We are excited to present to you the European Quidditch Cup 2019, Division 1 Committee. This year's committee consists of 13 members hailing from 7 different countries, from host country Belgium all the way to Turkey and Australia. With a wide range of experience from both their professional and quidditch lives, plenty of familiar faces with experience organising EQC will be joining first-time members with fresh new ideas to bring you the first ever Division 1 tournament.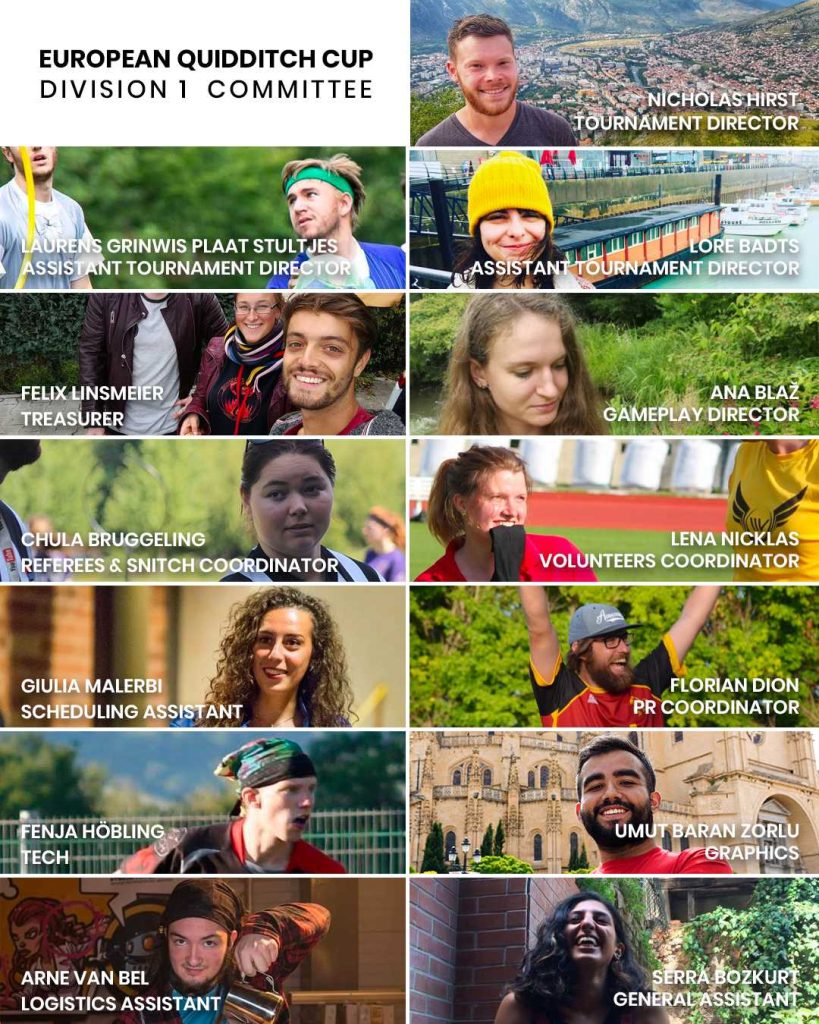 We will introduce you to our various committee members in more detail below.
Nic Hirst – Tournament Director
Originally from Australia, and currently living and working in Germany, Nic is a relative newcomer to the European quidditch scene. Many an international player or volunteer will have met him during the previous European Games, the last two World Cups, or perhaps a summer quidditch tournament. As a former Quidditch Australia board director, he was the tournament director for the inaugural State Shield as well as the Australian Dropbears manager. Nic will bring a fresh new perspective to EQC, and we're excited to have him lead a team of experienced volunteers in organising Division 1.
Lore Badts – Assistant Tournament Director, Publicity & Media Relations
Lore has lived in Harelbeke her entire life, and as such has a strong understanding of the region. Combined with plenty of experience in leadership positions, such as President of her university's Student Council, and a current position as Marketing Director for the Belgian Quidditch Federation, Lore is perfectly positioned to be one of EQC2019's Division 1 Assistant Tournament Directors. Lore will focus in particular on the areas of Publicity & Media Relations, as well as Sponsorships & Partnerships.
Laurens Grinwis – Assistant Tournament Director, Logistics
Many within the European community know Laurens as an active participant in international quidditch affairs. Laurens has been part of the Belgian Quidditch Federation leadership since 2013, and has been involved in organising EQC2014 (General Assistant), EQC2015 and EQC2016 (Gameplay Director), and EQC2017 (Tournament Director), as well as a multitude of Belgian tournaments. With his strong knowledge of Belgian quidditch, and a history of involvement in EQC, Laurens is perfect for the role of Assistant Tournament Director. Within this role he will focus in particular on the areas of Gameplay and Logistics.
Felix Linsmeier – Treasurer
Felix position within the EQC committee will surely come as no surprise to any veteran of the tournament. As former Executive Manager, and before that Secretary, of Quidditch Europe, Felix has been involved with both Quidditch Europe and EQC for many years now. With 5(!) previous EQC tournaments as Treasurer under his belt, there was no doubt as to whom this year's Treasurer would become.
Ana Blaž – Gameplay Director
Ana has experience volunteering within Slovenian quidditch, and was looking for a way to become more internationally involved. She has previously helped organise the Golden Nut tournament in Ljubjana, Slovenia, and has been involved with organising humanities and art related events as part of her Student Association. As Gameplay Director for Division 1, Ana will be responsible for the gameplay schedule, as well as most tournament policies.
Chula Bruggeling – Referee Coordinator
Often travelling abroad to referee at various tournaments, part of the IQA Rulebook Team for the 2018-2020 rulebook, and Secretary of Quidditch Europe, Chula will be known by many for her active work in the international community. With hundreds of games officiated over the past few years in a large variety of tournaments and countries, and having previously been EQC2017's Assistant Tournament Director, this year Chula will put her overall experience to good use as Referee Coordinator.
Lena Niklas – Volunteer Coordinator
Another returning committee member, Lena will be EQC's Volunteer Coordinator for the third year in a row. With plenty of experience in the role at both EQC as well as plenty of German tournaments, Lena will be a familiar face for many of our EQC volunteers. Since she already has a strong grasps on the basics of her role, Lena has expressed interest in spending time on improving the overall experience for those volunteering at EQC.
Giulia Malerbi – Scheduling Assistant
Giulia is an experienced volunteer during tournaments, ranging from Italian and UK tournaments to Pitch Managing at World Cup. Outside of quidditch, she is active in the research field, and often finds herself working in teams and leading projects. Having plenty of experience onboarding new people to a team, and scheduling them in the most useful ways, Giulia will be the first to fill a new EQC committee position: Scheduling Assistant. As Scheduling Assistant, she will help both Chula and Lena with the creation of referee and volunteer schedules, which will be especially valuable on the always hectic Sunday of the tournament.
Florian Dion – Publicity & Media Relations
Florian has extensive experience volunteering within quidditch, having been involved as a volunteer for his club since 2015. As Media Contact and Facebook Manager of the Brussels Quidditch Club, he is used to working in a multilingual media environment, with a focus on French. While Harelbeke is in the Dutch-speaking part of Belgium, it is very close to the French-speaking part, as well as France itself. While Lore will be focusing on Dutch media, Florian will be able to focus on French media, helping the tournament become truly multilingually represented in local and national media.
Umut Baran Zorlu – Graphic Designer
Umut has worked in the graphic design industry for more than 6 years, and has created logos for among others various firms, the Turkish Quidditch Cup 2018, and the Bogazici Quidditch Community. He has jumped right in as Graphic Designer for EQC2019, Division 1, starting with the graphic at the top of this announcement.
Fenja Höbling – Tech Manager
Fenja currently studies Media Technology, and has extensive experience planning and executing events such as live concerts, film festivals, and tv & theatre productions. She has previous experience coordinating tech at quidditch events, including coordinating with Ruhr Phoenix TV for livestream setups. As Tech Manager, Fenja will be working on cable plans and electricity management, as well as placement and infrastructure for a potential livestream.
Arne van Bel – Logistics Assistant
The last of this committee's returning members, Arne has previously helped organise EQC2017, focusing on Tech Management & Catering. Arne has his own event management company, and as such has plenty of experience organising a variety of events. He will take on the role of Logistics, with a focus on technical logistics, in collaboration with Laurens and Fenja.
Serra Bozkurt – General Committee Member
Serra has been an active volunteer at various tournaments, including Pitch Manager at EQC2017 and EQC2018. Outside of quidditch, she is an engineer, and is involved with managing and organizing many different things. As someone who loves working with various people, and eager to step up from her previous experience as Pitch Manager to becoming part of the organising committee, Serra will take on the role of General Committee Member, meaning she will help where needed in the coming months.