Around the trophy are the people dedicated to making your tournament the best it can be. So, allow us to introduce ourselves!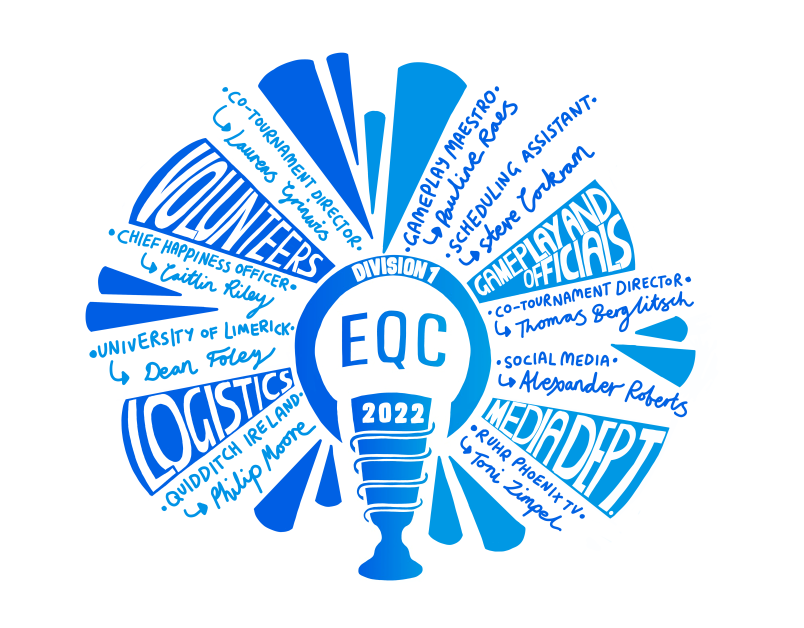 Philip Moore
Quidditch Ireland // Logistics
Philip Moore is the reason we're all going to Limerick. He was the main driving force behind the bidding organization and is all in on making his dream of EQC in Ireland come true! Philip's in charge of Quidditch side coordination and liaising and knows the area like the back of his hand! He's quite hard to miss, being tall and with an even taller mohawk. If you're ever lost, just look for Philip and you'll eventually end up in the right place!
Dean Foley
University of Limerick // Logistics
Dean Foley is our main contact at the University of Limerick. He's coordinating everything between the University and the Committee so that everything runs smoothly. He's in charge of dealing with all the bureaucracy and for this alone he deserves an extra shoutout! This event's also a send-off for Dean, as he'll be leaving his position at UL post tournament. Last Dance!
Caitlin Riley
Chief Happiness Officer // Volunteers Department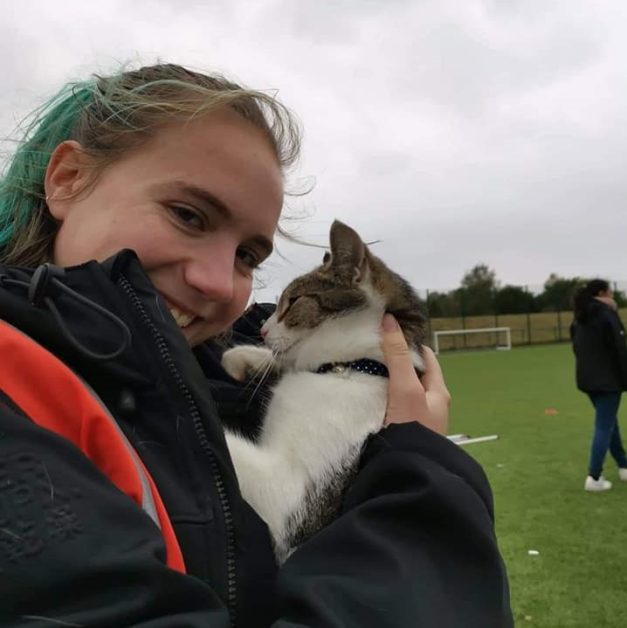 Caitlin Riley is currently the Assistant Events Director at QuidditchUK, where scheduling and coordinating volunteers is her forte. She's got plenty of experience as Assistant Tournament Director, as well as being an all-round helpful person at multiple events. In other words, Caitlin's the perfect person to make sure all volunteers are happy and know where to go and what to do!
Laurens Grinwis Plaat Stultjes
Co- Tournament Director // Volunteers Department
Laurens GPS knows his way around EQC (awful pun). Having been part of the EQC Committee for at least six EQCs in the last eight years, he's an old hand at running an event like this. Laurens is in charge of sorting out all the fun legal and coordinating the various departments, with a focus on volunteers! While he's not working on EQC, he's also working on the Quidditch Europe Board.
Pauline Raes
Gameplay Maestro // Gameplay & Scheduling Department
If you don't know Pauline Raes, you probably haven't attended any major international tournament yet. Well, EQC's your chance to meet the legendary Pauline! Name any IQA or QE tournament in the last five years and it's pretty much guaranteed she's been part of the committee. Inventing gameplay formats, knowing about 90% of all referees in the world, are just a few of Pauline's merits! She'll be making sure all rankings are correct, policies respected, and making sure you're getting the most capable referees for your games.
Steve Cockram
Scheduling Assistant // Gameplay & Scheduling Department
If there was a vote for best referee in quidditch, Steve Cockram would probably end up in the top 3 every year. Steve's been a major referee in the European scene, always presenting a calm authority over countless matches! As Head Referee at the last major EQC final, Steve knows exactly what sort of quality refereeing is needed and will be sharing all his knowledge to make the tournament officiated as smoothly as possible!
Thomas Berglitsch
Co- Tournament Director // Gameplay & Scheduling Department
If you have been to an international tournament before, Thomas Berglitsch probably refereed one of your games. Thomas was a major part of the Quidditch Europe Board during the COVID pandemic. He's been responsible for making sure everything, QE and EQC, keeps going. No nonsense and immediate results are his watchwords! Thomas, if he really wanted to, could probably have 2 monkeys build a rocketship out of quidditch equipment, just by giving them a blueprint and some instructions!
Alexander Roberts
Social Media // Media Department
Alexander has done Quidditch social media going back to Quidditch Premier League 2019 and has helped out with Quidditch Association of New Zealand's comms too. Outside quidditch, Alex* has produced social media content for all sorts of events and organisations! If you're following the results from home, he's got you covered. Don't worry about missing out on the EQC experience either, he'll be bringing that right to your screen! *He's happy with Alex or Alexander. You can even call him Lexi if you really want…
Toni Zimpel
Ruhr Phoenix TV // Media Department
Toni Zimpel's made it his life goal to get quidditch broadcasted just like any major sport. He founded Ruhr Phoenix TV, the now go-to outlet for any quidditch tournament. With experience at 3 EQCs and 2 IQA events, including a World Cup, he will make sure you can attend EQC from your couch, as if you were standing on the field!